Oslo has become a metropolis, but remains as closely surrounded by deep forests as always.
The Nordmarka forest first appeared on a map 260 years ago.  Immediately north of Oslo, most of it belongs to the Nordmark Estate, which has remained in the same dynasty from Christian Ancher through to today's Løvenskiold family.
In the early 1800s, lumbermen were startled to meet hunters and anglers from the city.  Towards the end of the century, cross- country skiers were also appearing.  The Nordmarka forest gradually became a meeting ground.  Adventurers from the city met in the forest.  At the end of a long day's trek they would knock on the doors of remote forest farms and ask for food and a bed.  Tales were exchanged over simple meals. Lasting bonds were formed with the locals.
Hunters still use Nordmarka , and some of the remote farmsteads are still populated by locals offering food and lodging.  The city has grown to a modern-day metropolis. Life in the forest remains largely unchanged.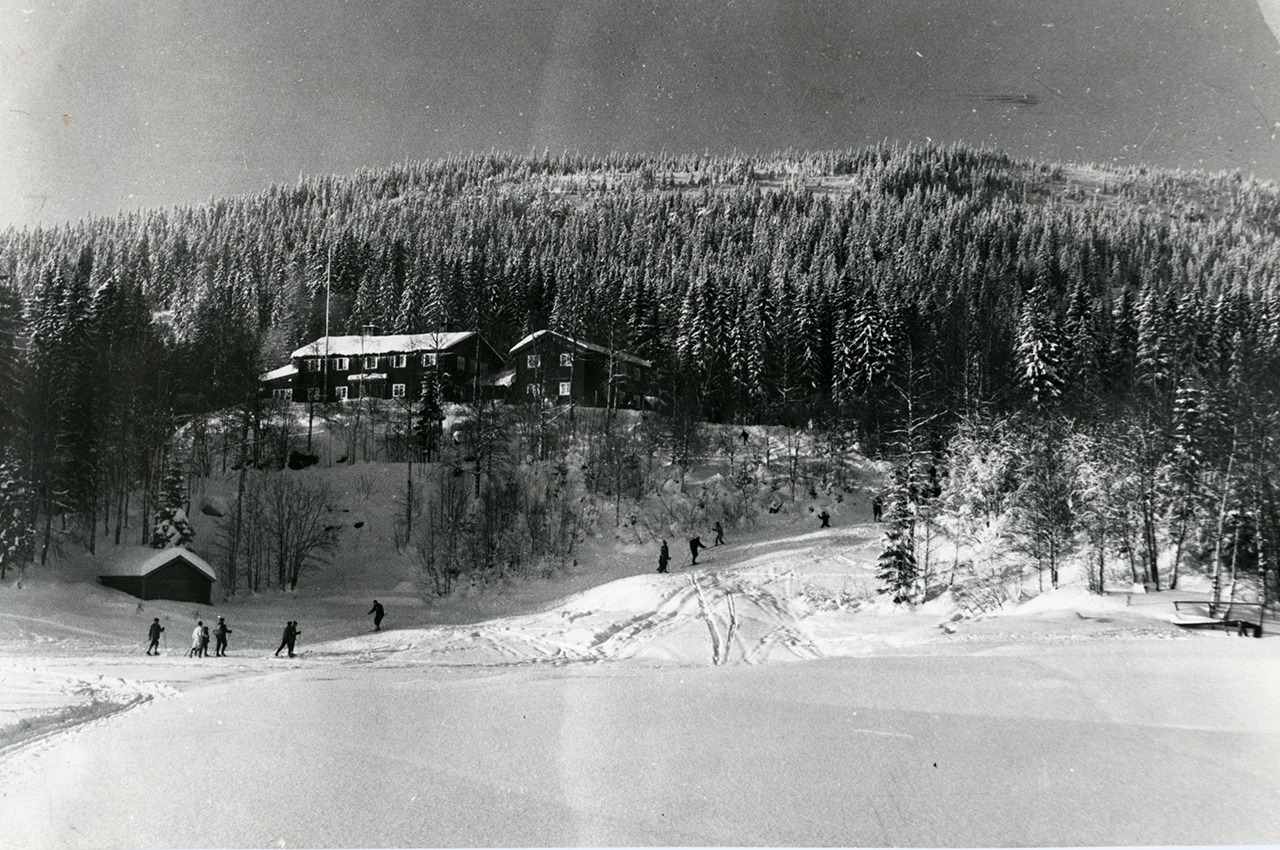 Sørkedalen, Frognerseteren and Maridalen are popular Nordmarka starting points. Public transport gets you there, quickly and easily.  The Holmenkollen tramway takes half an hour from downtown Oslo to Frognerseteren. And just a few steps off the train, you're deep in the forest.
From the north end of the vast forest, cross-country skiers like to start from Stryken, the starting point for a classical full scale north to south Nordmarka trek. 30 to 40 km long, depending on the route you choose.A local train will take you to Stryken in 40 minutes.  The trek back to Oslo is a white dream, as you glide through snow clad trees in a fairy tale forest that has entranced generations.
Your first stop is at Katnosa, a remote farmstead that was home to a thriving family until as recently as 1990.  Katnosa served as base for Norwegian resistance fighters during WW II, and received waves of British paratroopers as they parachuted into Norway.
Seven kilometres further south Sandungen welcomes to another stop.  This forest farm was settled by Finns around 1650. It was home to the Finstad family, but they are gone now.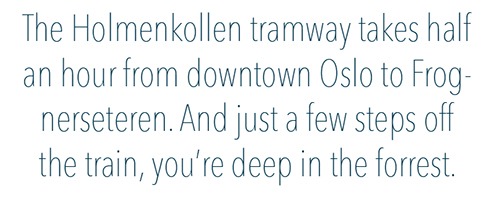 Another 10 kilometres south, and you reach famous Kikutstua, popular destination for day-trekkers from Oslo.  Perched on a hill overlooking the Bjørnesjøen lake, only 12 kilometres on skis north of Frognerseteren. It was built by the ski association in 1926 to offer skiers a place to spend the night, home cooking, a hot toddy in front of a roaring fire.  A sauna with a view of rolling hills, the white lake bathed in moonlight. A night deep in the heart of Nordmarka is an experience no one will ever forget.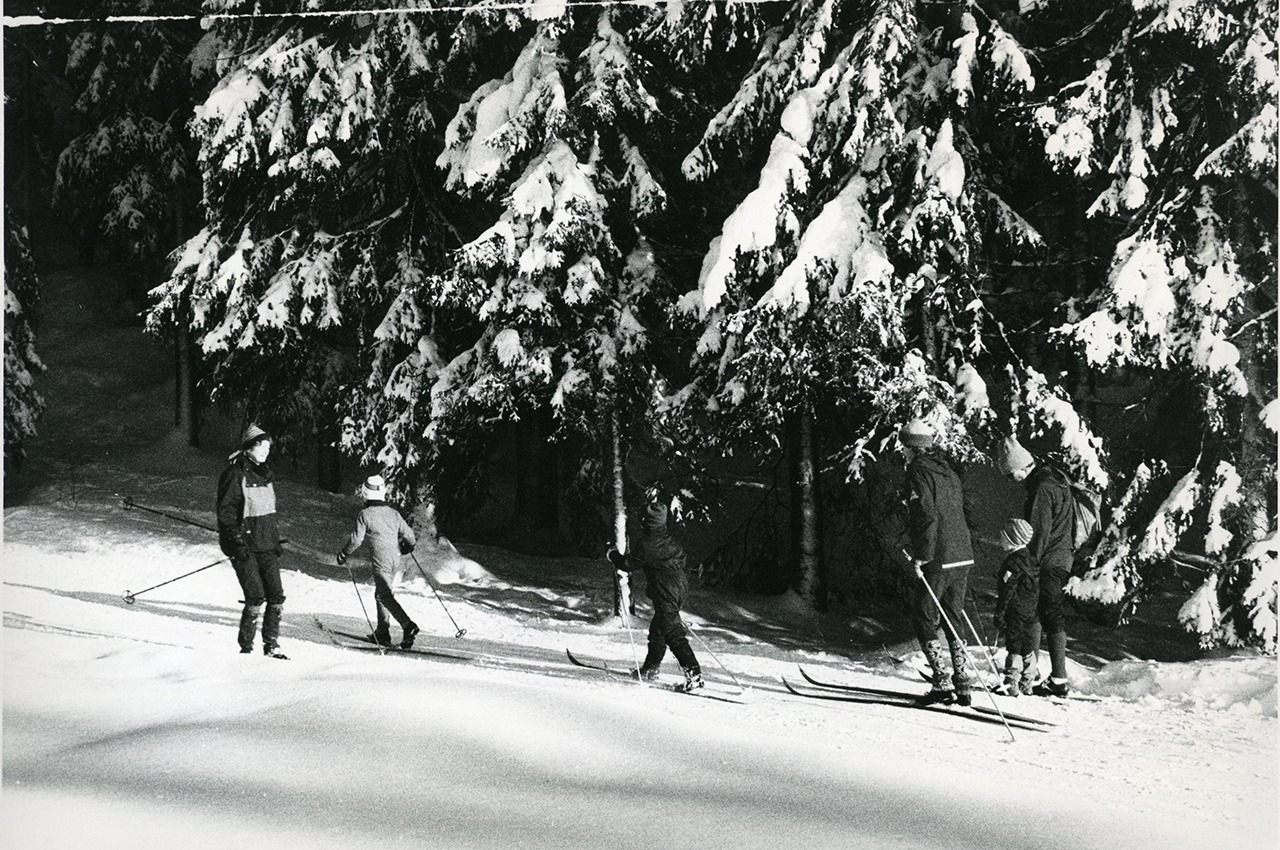 Next morning, full of renewed energy. A hearty Kikutstua breakfast. The remaining trek to Oslo is child's play.  Glide across the Bjørnesjøen lake, race across Glåmene, pass Kobberhaugen and Blankvannsbråten and climb up Slaketeren.  Before you know it, you're at Tryvann and Oslo Winterpark:  18 alpine slopes and 11 ski lifts, alive with downhill skiers.  You are back in civilization.  Up at the top you turn and savour the endless view of Nordmarka behind you: magical Nordmarka, awaiting your next visit.  Before you, the great expanse of Oslo and the fjord beckon.