TEXT; TRYGVE MARKSET | PHOTOS; yukonori otsuka
I am finding myself waiting among snow-covered rice fields 3.30 in the morning. Heavy flakes of snow are falling slowly from above – like it has been since the very end of November. Out of the dark my company appears, the infamous Japanese box-car full of lively and awake Japanese hard-core skiers.  I am jumping into the neatly packed car, where every object got its dedicated place, nothing left to chance. Accompanied by Japanese repetitive house we are rolling into the deep woods of Hokkaido in search of adventures.
Inspired by cultural differences and promises of deep snow, I decided to spend a full year in Japan working as a Sports Exchange Ambassador. Located in the small mountain-town called Higashikawa, Hokkaido, I would utilize my background as a semi-professional cross-country skier and coach everything between aspiring kids to National Team Athletes.
Naive about the fact that Japanese people hardly speak any English at all, I had to put special effort into making myself understood. After two months at the local Japanese School, I got the basics covered – and little by little I was able to make conversations with the local coffee-shop owner named Goro. I soon realized that that Goro was not the average Joe. As a former house-DJ in the dark clubs of Sapporo, he got a "call from the mountains", and moved out to what is considered the hidden freeskiing-capitol of Japan. Through these informal coffee-chats using plundering Japanese, I was all of a sudden included into the group of Higaskikawa's long-haired freeskiing hippies, utilizing every opportunity to go skiing and touring around the Japanese north in search of the perfect turn.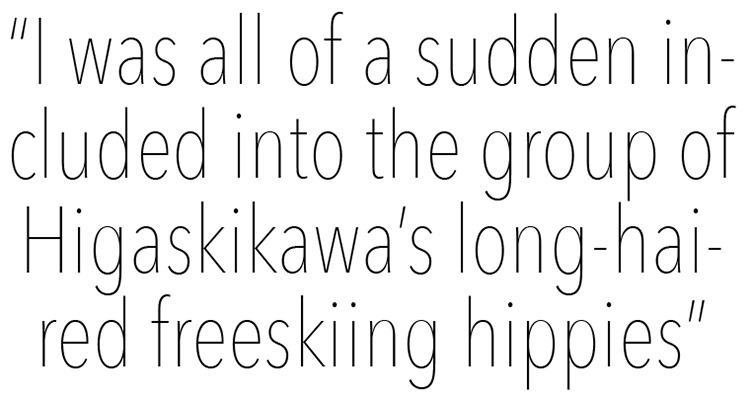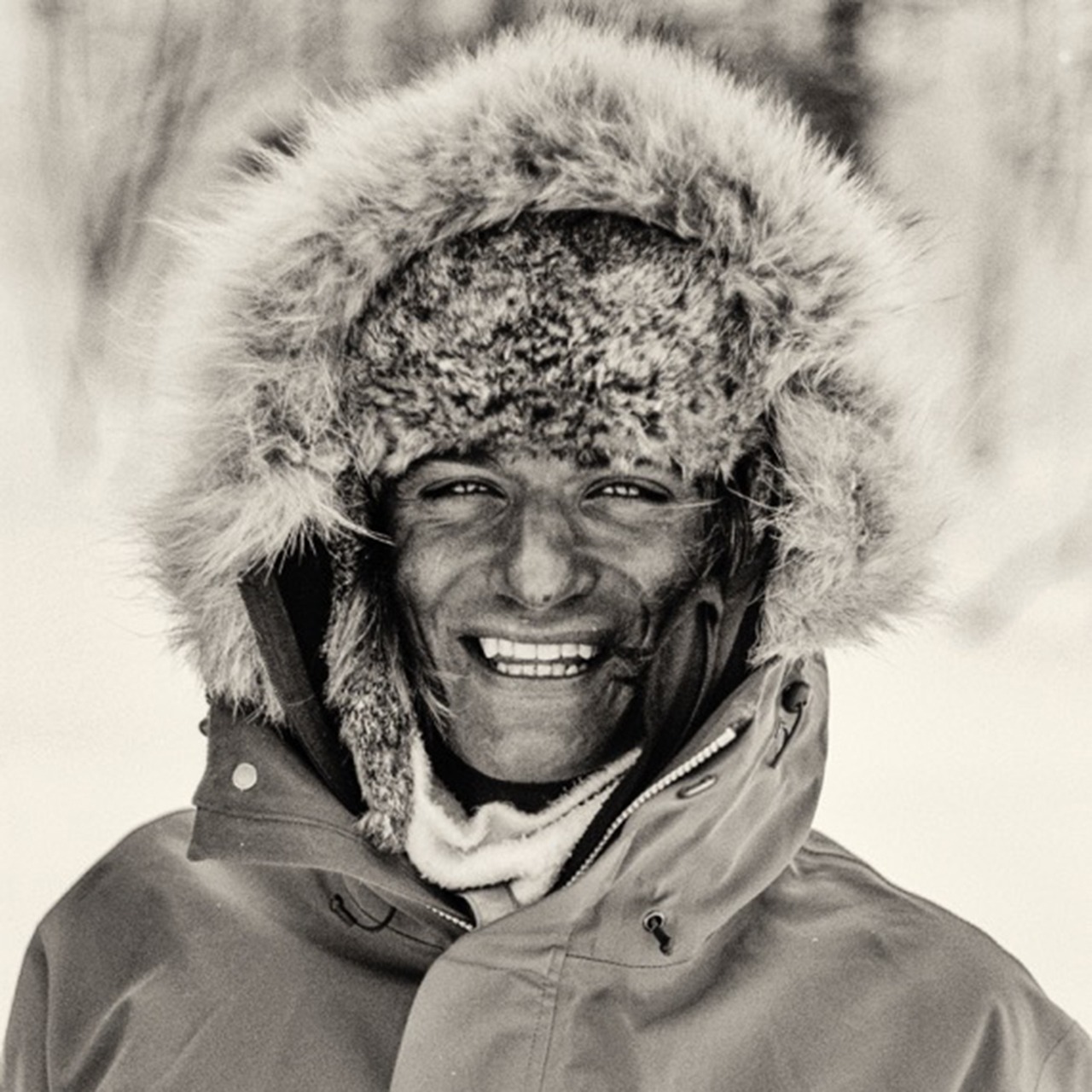 Back in the car – we are on our way to Kazayama. A mountain known for perfectly separated birch trees and high density of Japanese grizzly bears. Fumes of coffee fill the coupe as we float through the dark winding roads. Standard breakfast, "Tamago-kakke-gohan" – rice with raw eggs, goes down with chop sticks and synchronized slurping. After spending 30 minutes on digging a parking spot into the 8-meter-high snow bank along the road, we are finally ready to start the day.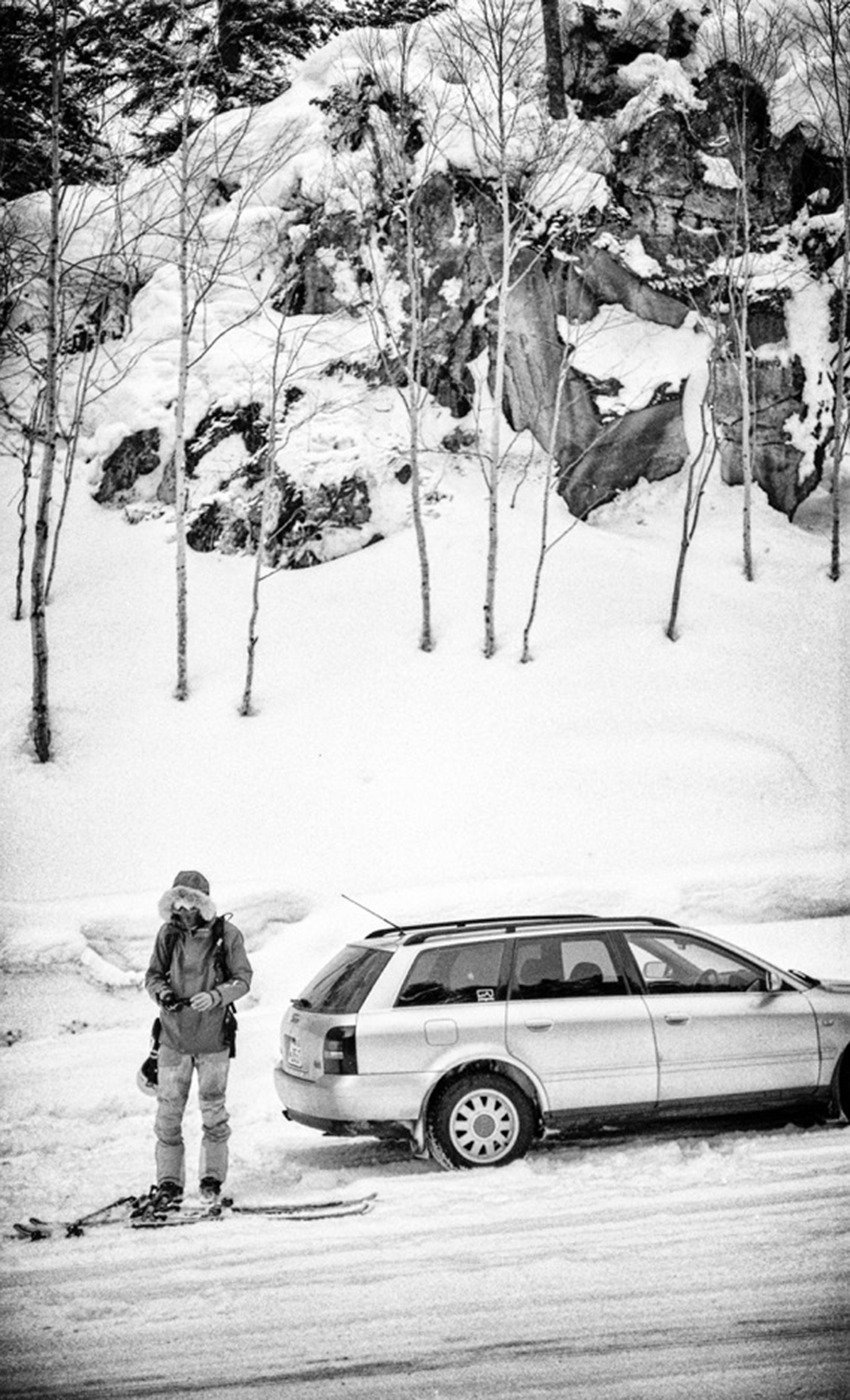 Due to the combination of cold weather coming down from Siberia and the "lake effect", where moisture is being picked up from the Japanese Sea, Hokkaido annually faces an average of 8-14 meters of snow. To the locals, this is the norm, and anything less seems unnatural. My winter in Hokkaido was no exception, and it all peaked with 2.5 meters of snow in less than 36 hours.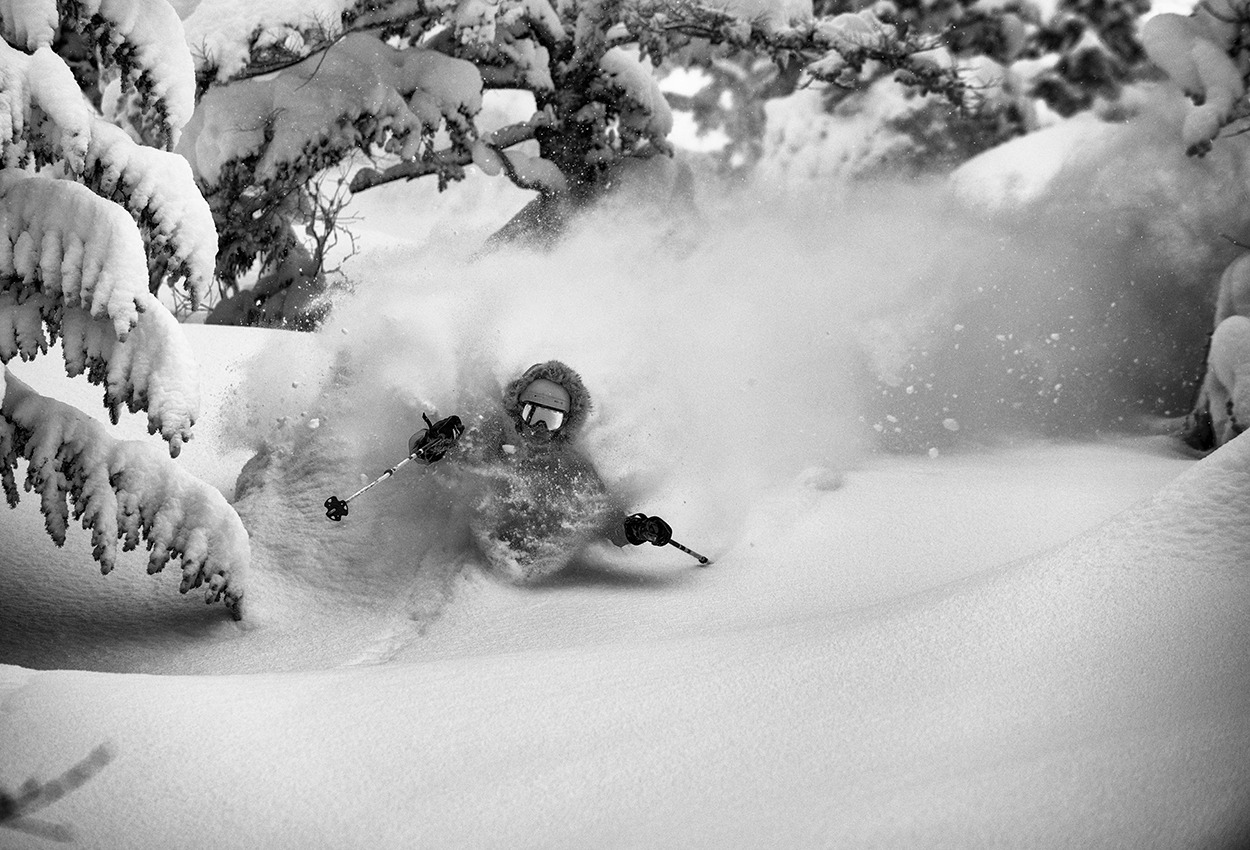 As we slowly put in the deep skin-track, the descent is discussed down to the smallest detail. Japanese people leaves nothing to chance. Even how they organize their backpacks is a study. Everything got a dedicated place – everything needs to be in order. The contrast to my classic Norwegian disorganized behavior and preparations could not be any bigger. However, we are united group, exchanging smiles, laughter and the same passion for being in the outdoors.
Reaching the summit of Kazayama, the sun finally breaks through – exposing the beautiful contrast of white birch trees and deep blue sky. Far from the stressful life of big cities, the deep forest of Hokkaido offers anything but the Japanese state of "wa" – harmony. We ski all day –  with faceshots on every single turn – howling like Indians craving for more. In the dusk, we glide back down to base, ending the day in one of the many natural onsens Only white smiles appear over the dark damping water . My Japanese hippie friends leans back, pleased with living outside the Japanese norms and being able to harvest the joy of nature.