Greenland has been a dream of mine since the trip to Svalbard for some years back. To once again, fly into a white dressed and moon shaped landscape, which gives me shivers throughout my body. What could I expect?
The flight over the Illulisat Isfjord over to the Disco Island and small town of Godhavn is amazing. The ocean is covered with ice. Ice in the shape of flakes that in turn create all thinkable geometrical shapes. The towering icebergs are massive and beautiful. I am filled with gratitude. The Vulcan mountains create plateaus that form the landscape. I love to ski down narrow collages. They are everywhere here. I feel at home. The houses are painted in all the colors of the rainbow. The use of color in the otherwise snow packed landscape touches something deeply within me.
For some years ago, the locals drove their cars and their sleds on the long distances form the island and over the ice. It is too hot now and many of these people are isolated throughout the winter. The tourism on Disco Island awaits until the boat season. We are the first ski tourists here. The reception is mixed. Our hosts light up and talk eagerly that they would like to show us their houses during the winter season. Others look at us with wondering and curious stares. Except for the Husky's singing, the streets are quiet. The temperature is 30 degrees below.
The split nature of the habitants is quite clear to us. Those who live on tourism and those who live on traditional fishing and trading of resources. I feel a discomfort. How will groups of ski tourism affect the totality of this small community?
We are transported to a mountain cabin where we will live for the majority of our trip. My questions remain unanswered. I am at work and the days are filled with exploration of the mountains, both by video and pictures. We strap on our skis outside the cabin that is situated on top of a plateau with and indescribable view. Where do we start? I have many things I want to do and I feel that awaited change occurs inside of me. Why this chase? I choose to breathe deeply and enjoy the view while the boys make plans. I can ski anywhere, and I focus on the peace and deep emotions this place awakes in me. A tear drips down my frozen cheek. I smile and raise my arms to the sky and feel an amazing gratitude for the fact that I am able to experience this part of the world. The peace is abrupted; we have to keep on moving. Be efficient. Life's contrasts are apparent. There are always two sides to any experience. They are very clear now. Like Yin & Yang. Light & Darkness. Everything is always present. It is all about perspective. I breathe and move slowly even though we are told to hurry up. I continue to smile and enjoy the view. It is contagious. I wish to share my authentic energy with the others, and so I need to keep calm. Do not let rationality get the better of me.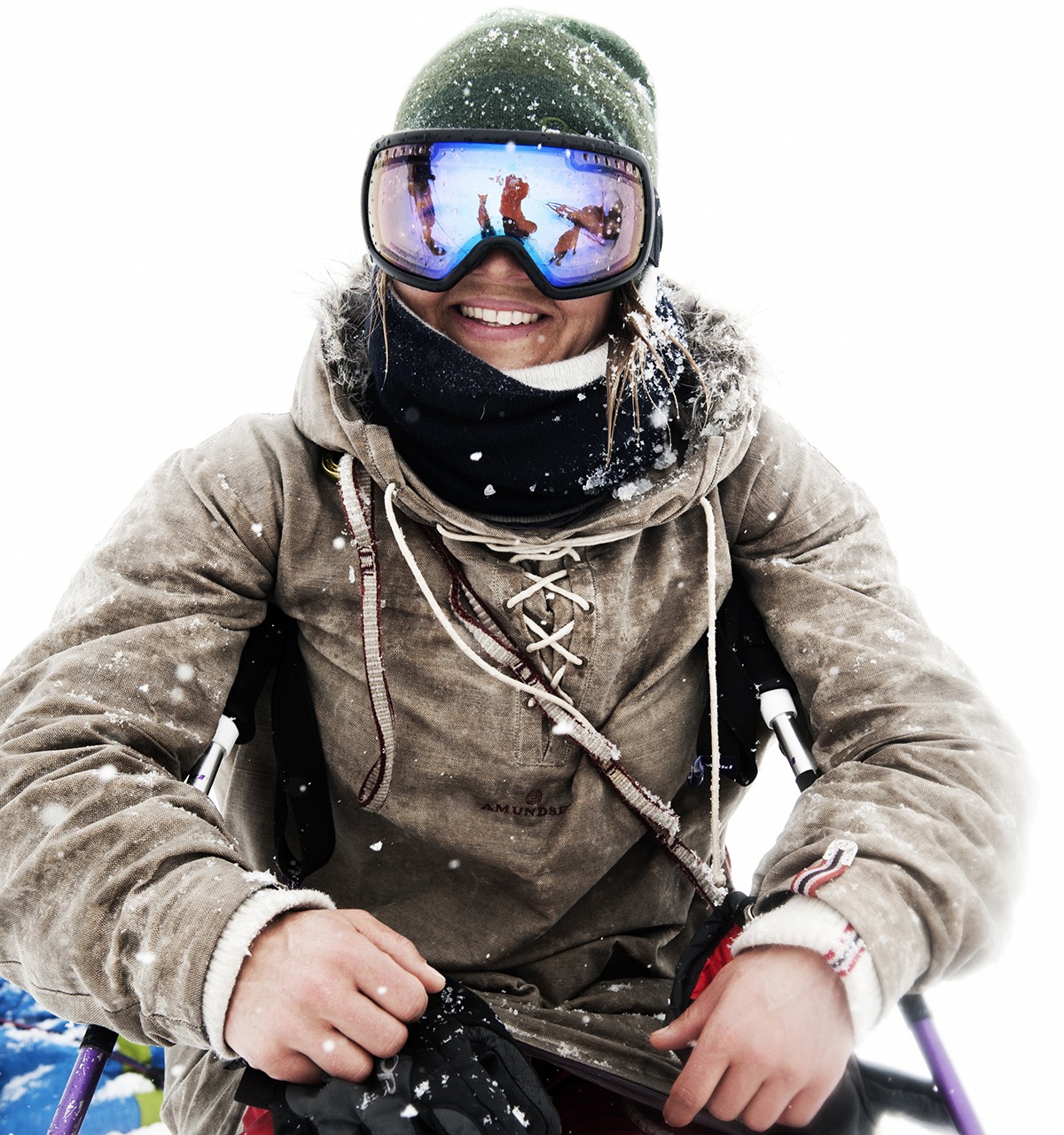 I chuckle to myself when I raise my voice already on the second day. From sitting quietly and eating breakfast to suddenly be chased up because we need to hurry does not resonate with me. I share something most of us know, but do not practice: It does not go any faster if we stress on top of each other, making lunch, cooking tea and getting dressed.
Getting dressed is a chapter in and of itself. It is pivotal to pack any necessity and at the same time do not break a sweat before leaving the cabin. I choose to focus on my tempo, even though it creates some frustration among the others the first few days. The reminder of the essence and presence in every moment is enhanced.
On many levels, I feel a bit like Bambi on the ice. Even on skis. The boots are big to create heat and they feel weird. The seal-fur that I have over my two other layers of clothing gives me the feeling of being like a penguin in motion. I feel like am part of "Happy feet", my favorite movie.
The 1000-yard long couloir take me down the ice-draped ocean. What meets me in every end of these couloirs are fantastic ice-sculptures. I feel so small, yet so big at the same time.
Tens of unskied couloirs get skied. I come down on the ice after the day's last and most beautiful couloir and am greeted by the family overhead. We are both surprised. He had a strong feeling that he needed to drive out and see the sunset on exactly this day. He greets me welcome and we both cry. A meeting that confirms everything within me.
The sun sets and reflects the ice I am standing on with all the colors of the rainbow. The feeling of how the locals appreciate my visit is indescribable. They enhance that feeling by naming the last couloir of that day after me. That very night there is a full moon. And Northern Lights.
I am excited like a little child to our expedition to Kangerluk. 18 people live here. They meet us with their Huskies and get ready to take us to get the seal catch of the day. I have experience with riddling Husky-Sleds from before, but this is something else entirely. This is not for fun, but a necessity for the people who live here. To observe all the work put down to put food on the table in these surroundings, takes me back into the humble part of myself. In the evening they serve whale meat like in the olden days. Tourists are seldom here, and they prepare the food in the same manner as they always do. It tasted like warm fish-oil with lumps in it. The pleasure our host gets from having us there overshadows the unpleasant tasting experience, at least on my part. In addition, I have hidden away a piece of raw chocolate for the night. The conversations I have with a couple of the elderly, fascinates me. They have travelled and studied many places in the world, and tell me they always yearn back to Kangerluk. To the simplicity, the nature, and its people.
A sealskin pants and jacket to wear on top of my other clothing to keep warm, saves my un-isolated being, like it has and still does for the Inuitts. Hunting for seal is a necessity for the part of population whom still live at one with their culture and their view on nature. Their humbleness in knowing that life is connected to nature is a pleasant experience. The rituals and ceremonies are fading away, but to honor life and nature in all its glory lies within them. They use the entire animal, honor its soul, and understand that we, just like the animals are all energy that eventually will return to its original form. They do not over-consume. The harvest is a necessity, not a business. Every person needs to make their choices and stand up to their actions. Who are we in the "modern" world who choose to operate like God and deny indigenous their resources?
Like with everything else, it is about human consciousness. Consciousness of what we are, what we are a part of on a higher level than the egocentric modern path. Everything will be in balance and dare to look at what we are creating. Only then will we remember that we are part of nature.We are essentially made up of the same building blocks and cannot blossom as long as we fight against nature.
My opinion is that business takes us further away from nature. Our hearts need to be involved in our actions. By looking in the mirror of truth in the industrial world, we will realize that it is not the indigenous people that create chaos. It is all about balance, not trying to steer others.
The total experience from this trip encapsulates it all. From the most beautiful moments, to the contrast of seeing it from a business state of mind. The pressure to always deliver what is expected from the commercial world feels so far away as a tear drops down my chin.